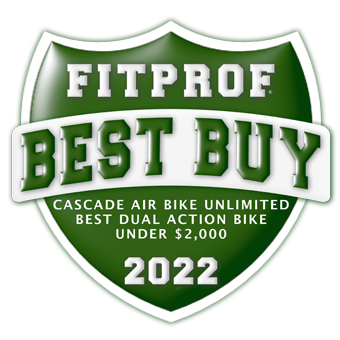 << Back to Product Page
Read Review: www.fitprof.net
With decades of experience in the equipment industry, the people behind the Cascade brand are responsible for some of the very best products ever produced. With this expertise, it should come as no surprise that their Air Bikes are possibly the strongest and most durable air bikes ever made.
Weighing in at over 160 pounds, built on one of the most stable footprints and a commercially rated user capacity of 350 lbs, the Cascade Air Bike Unlimited is the definition of 'heavy duty'. That said, it also offer a fantastic level of refinement with;
multi-grip handles
4way micro adjustable cushioned seat
HIT programs
console displaying time, distance, calories, rpm, watts, H/R and speed
Brains and brawn. Its this perfect combination that makes the Cascade Air Bike Unlimited one of the best dual action bikes on the market and our 2022 FIT PROF BEST BUY dual action bike under $2,000!