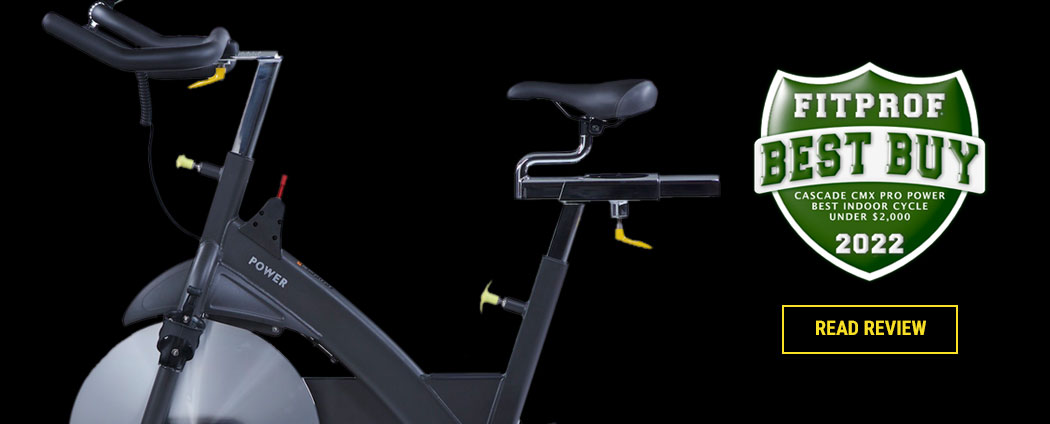 SMOOTH MAGNETIC RESISTANCE SYSTEM

With no friction parts to wear and tear, CMXPro group exercise bikes are extremely quiet, durable and require very little maintenance.
16 LEVELS OF RESISTANCE

Resistance lever adjusts easily to give you 16 levels to vary the intensity of your workout – train with interval's from 30 watts to 1,000 plus watts.
COMFORTABLE SEAT

Adjusts up/down and fore/aft for better fit or use your personal seat.
NO-SLIP MULTI-POSITION HANDLEBARS

PVC coated handlebars adjust up/down and fore/aft for better fit.
CONTACT AND WIRELESS HEART RATE – HR STRAP INCLUDED

The heart rate is important in your workout and that is why we provide one with every unit.
NEW BLUETOOTH/ANT+ POWER CONSOLE PROVIDES A REALISTIC AND MEASURABLE CYCLING EXPERIENCE.
At last there is a high quality magnetic group exercise bike with a power meter that delivers exceptional performance, motivating training feedback, and long life durability.
Certified for commercial facilities, the CMXPro POWER group exercise bike with Backlit Power Console lets you train with power for top cycling performance  – measuring your watts, heart rate, level of resistance, speed, cadence, calories, time and distance – to meet and improve your personal fitness goals. Using a smooth magnetic resistance system, with no friction parts for wear and tear, the CMXPro POWER indoor cycle is extremely quiet and low maintenance making it an exceptional value.
Incorporating this power data is a key way to target the exercises that will maximize your gains and ensure you get the most our of every session. It also provides strong feedback letting you know just how much you're improving by using the CMXPro POWER stationary bike.
Compatible with Kinomap and Zwift.
THE CASCADE CMXPro POWER MODEL INCLUDES:
Backlit Power Console – Bluetooth/Ant+
HR Monitor/Strap
Dual Sided SPD Pedals
16 Levels Of Adjustable Resistance At Your Fingertips (Lever)
Besides adding this high level of cycling feedback, the CMXPro POWER model has all the same great features of the CMXPro Group Exercise Bike – including:
Precision Balanced Belt Driven Flywheel – durable, quiet, requires little maintenance and delivers great road feel
Optimum Q Factor – narrower separation between the two pedal cranks for optimal performance
Robotically Welded Frame – for long lasting performance
Low Maintenance Design – magnetic resistance eliminates old style wearing parts 
Comfortable 4 Way Adjustable Seat
Adjustable Multi Position Handlebars– no-slip, PVC coated with 4 way up/down and fore/aft adjustments
Long Lasting Chrome Plated Seat And Handlebar Tubes
Durable Ball Bearing Bottom Bracket –for easy service
Durable Cranks – for long lasting performance
Improved Corrosion Resistance – 2-stage powder coating, with ED primer coating for long lasting finish
Dual Water Bottle Holders
Rear Molded Stretch Pads 
Wider Cross legs  – for improved stability and oversized leg levelers